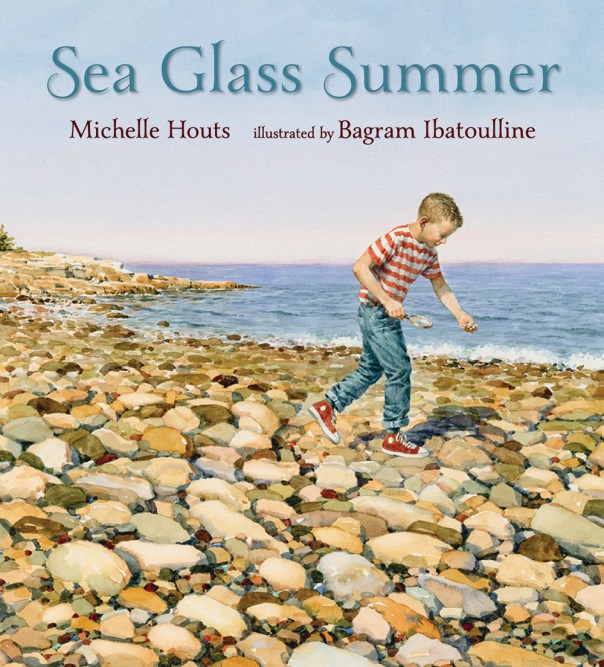 2019   Publisher: Candlewick Press
Picture Book – Ages 4 – 10
When Thomas visits his grandmother's island cottage, he learns the sea has stories to tell, and that each piece of sea glass he finds brings him another of those tales. With a lovely twist at the very end, this multigenerational story blends summertime, history, and youthful imagination in a way that will have children begging "Read it again!"
Silent Swoop: An Owl, an Egg, and a Warm Shirt Pocket
Release Date: September 1, 2019  Publisher: Dawn Publications
Picture Book – Ages 4 – 10
Silent Swoop is the unlikely story of Coal, a Great Horned owl who was rescued while still inside an egg. Animal lovers of all ages will love reading about Coal, his rescuer, and what happened when history repeated itself. The book contains STEM extension activities and lots of useful links for parents, teachers, and librarians.
Count the Wings: The Life and Art of Charley Harper
2018| Publisher: Ohio University Press
Middle-grade biography, ages 8 and up
When you look at a bird, do you see feathers and a beak? Or do you see circles and triangles? Artist Charley Harper spent his life reducing subjects to their simplest forms, their basic lines and shapes. This resulted in what he called minimal realism and the style that would become easily recognized as Charley Harper's. Art fans and nature lovers around the world fell in love with Harper's paintings, which often featured bright colors and intriguing nature subjects.
Lucy's Lab, Chapter Book Series
Chapter Books, Ages 7 – 10
Lucy Marie Watkins loves science. Brown is her favorite color because some of the best things in the world are brown – mud and chocolate! Most of all, Lucy loves second grade. Her second grade classroom has its own science lab, lots of fascinating experiments, and even a Mr. Bones. This is going to be the best year ever, and you're invited to join in all the adventures in Lucy's Lab!
When Grandma Gatewood Took a Hike
Release Date: September 15, 2016   Publisher: Ohio University Press
Picture Book – Ages 4 – 10
It took her two tries, but Emma "Grandma" Gatewood became the first woman to solo hike the entire Appalachian Trail in one through-hike.  How did a little, old grandma from the Ohio River find the gumption to walk over 2000 miles of wilderness alone? Find out in this new, narrative nonfiction picture book.
Kammie on First: Baseball's Dottie Kamenshek
Release Date: October 15, 2014 | Publisher: Ohio University Press
Middle-grade biography, ages 8 – 14
Dorothy Mary Kamenshek was born to immigrant parents in Norwood, Ohio. As a young girl, she played pickup games of sandlot baseball with neighborhood children; no one, however, would have suspected that at the age of seventeen she would become a star athlete at the national level.
Release Date: September 9, 2014 | Publisher: Candlewick
Middle-grade fiction, ages 9 – 12
Christmas has come, and with it a sparkling white winterfrost over the countryside. But twelve-year-old Bettina's parents have been called away unexpectedly, leaving her in charge of the house, the farm, and baby Pia. In all the confusion, Bettina's family neglects to set out the traditional bowl of Christmas rice pudding for the tiny nisse who are rumored to look after the family and their livestock…
The Practical County Drama Queen
Released April 2014 | Publisher: MuseItUp Publishing

Middle-grade fiction – Ages 9 – 12
On their last day of 5th grade, eleven-year-old Frannie Ryan's friends are all making plans to hang out at the mall or spend long afternoons at the pool. But Frannie has bigger goals for her summer vacation. Frannie's big brother, Ronnie, is engaged to marry Precious Darling, one of Nowhere, Indiana's despised Darling sisters. With the wedding just ten weeks away and Frannie's level-headed big sister Libby…
The Beef Princess of Practical County
Released July 2010 | Publisher: Yearling

Middle-grade fiction – Ages 9 – 12
After years of waiting, it is finally Libby Ryan's turn to shine at the Practical County Fair. Libby is filled with excitement as she and her granddad pick out two calves for her to raise on her family's cattle farm, in hopes of winning the annual steer competition. Against her father's advice, Libby gives the calves names, even though both steers will eventually be auctioned off. After a few months of preparing…