Lucy's Lab Chapter Book Series
LUCY'S LAB Chapter Book series (Sky Pony Press)
Join Lucy Marie Watkins, her friends in Room 2-C, Miss Flippo (the best second grade teacher ever), and Mr. Bones as they explore and discover the wonderful, wacky scientific world around them. There are plenty of laughs as Lucy and her friends find new ways to learn about habitats, discover first-hand the states of matter, or dig into fossil-finding. Look for Lucy's own Pinterest page filled with all of Room 2-C's experiments and more.

Nuts About Science (Habitats): Lucy's Lab #1
Hardcover: 112 pages
Publisher: Sky Pony Press (September 26, 2017)
ISBN-10: 1510710647
ISBN-13: 978-1510710641
On Lucy's first day of second grade, she's excited to meet her new teacher, Miss Flippo, and find out everything's she's going to learn about this year in school. And when Miss Flippo tells the class that they're going to have their very own science lab, complete with lab coats and goggles, Lucy can't wait to start exploring.
Solids, Liquids, Guess Who's Got Gas (States of Matter): Lucy's Lab #2
Hardcover: 104 pages
Publisher: Sky Pony Press (October 3, 2017)
ISBN-10: 1510710671
ISBN-13: 978-1510710672
Autumn has arrived, and at Granite City Elementary School everyone is gearing up for the biggest and best event of the year, the Harvest Festival. The whole school is excited about the games, the contests, the food, and most of all—the costumes! Everyone except Lucy. She doesn't like dressing up, and has no desire to be a fairy princess or rock star, even for one day.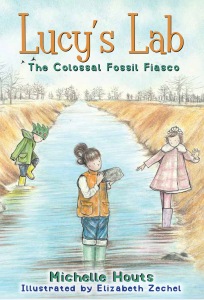 The Colossal Fossil Fiasco (Fossils): Lucy's Lab #3
Hardcover: 112 pages
Publisher: Sky Pony Press (February 27, 2018)
ISBN-10: 1510710701
ISBN-13: 978-1510710702
At school, Lucy's class is learning about fossils and the plants and animals that left them behind.
One afternoon, Lucy finds a special rock, and Miss Flippo gets very excited! But when Lucy's precious fossil goes missing, everyone in Room 2C is a suspect. . . .
Find one for purchase at your favorite independent bookstore:
Indie Bound
Available for purchase online at:
Amazon
Barnes & Noble